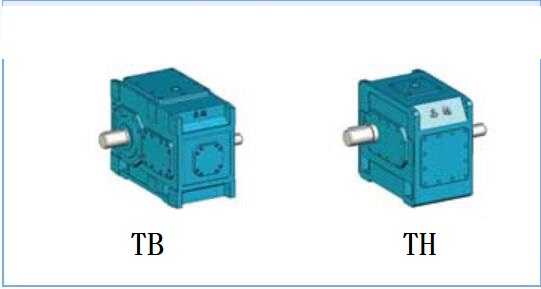 TH、TB series high power speed reducer is a new type of rigid tooth flank gear units with wide application, which has the feature of large torque range, a design of unit structure modulization capable of horizontal mounting and vertical mounting. which has output with solid shaft, hollow shaft and hollow shaft with shrink disk. With high-strength good-quality alloy steel of carburizing and quenching, the series has the feature of high-efficiency and long life-span, high permissible axial and radial loads, low noise, high reliability and compact structure.
Output speed: 1.7 ~ 1200r/min
Output torque: up to 470000Nm
Motor power: 9 ~ 5082Kw
Installation mode: horizontal mounting、vertical mounting、axis mounting、shrink disk mounting.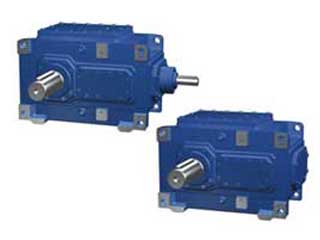 Horizontal installation of single stage drive of parallel shaft reducer(Type: TH1SH)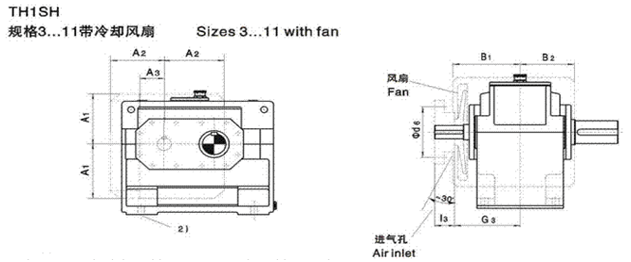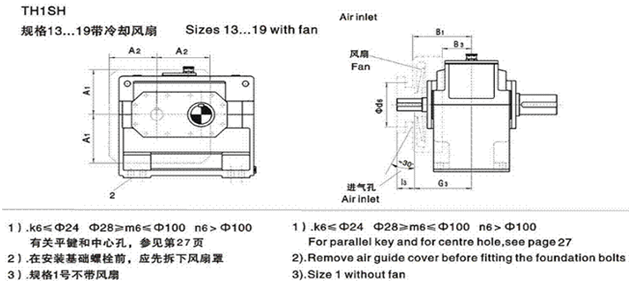 Model
Size mm
Input shaft
iN=1.25-2.8
iN=1.6-2.8
iN=2-2.8
iN=3.15-4
iN=4.5-5.6
G1
G3
d11)
l1
l3
d11)
l1
l3
d11)
l1
l3
d11)
l1
l3
d11)
l1
l3
1
40
70
30
50
–
24
40
–
110
–
3
60
125
105
45
100
80
32
80
60
170
190
5
85
160
130
60
135
105
50
110
80
210
240
7
100
200
165
75
140
105
60
140
105
250
285
9
110
200
165
90
165
130
75
140
105
280
315
11
130
240
205
110
205
170
90
170
135
325
360
13
150
245
200
130
245
200
100
210
165
365
410
15
180
290
240
150
250
200
125
250
200
360
410
17
200
330
280
170
290
240
140
250
200
400
450
19
220
340
290
190
340
290
160
300
250
440
490
Model
Size mm
Gear reducer
a
A1
A2
A3
b
B1
B2
B3
c
d6
E
h
H
m1
m2
m3
n1
n2
s
1
295
–
–
–
150
–
–
–
18
–
90
140
305
220
–
120
37.5
80
12
3
420
150
145
80
200
205
130
–
28
130
130
200
405
310
–
160
55
110
19
5
580
225
215
115
285
255
185
–
35
190
185
290
555
440
–
240
70
160
24
7
690
255
250
120
375
300
230
–
45
245
225
350
655
540
–
315
75
195
28
9
805
300
265
140
425
330
265
–
50
280
265
420
770
625
–
350
90
225
35
11
960
360
330
190
515
375
320
–
60
350
320
500
875
770
–
440
95
280
35
13
1100
415
350
–
580
430
–
150
70
350
370
580
1055
870
–
490
115
315
42
15
1295
500
430
–
545
430
–
120
80
450
442
600
1150
1025
–
450
135
370
48
17
1410
550
430
–
615
470
–
150
80
445
490
670
1270
1170
130
530
120
425
42
19
1590
630
475
–
690
510
–
190
90
445
555
760
1430
1290
150
590
150
465
48
Model
Size mm
Lubricating oil (l)
Weight

(kg)

Output shaft
d21)
G2
l2
1
45
110
80
2.5
55
3
60
170
125
7
128
5
85
210
160
22
302
7
105
250
200
42
547
9
125
270
210
68
862
11
150
320
240
120
1515
13
180
360
310
175
2395
15
220
360
350
190
3200
17
240
400
400
270
4250
19
270
440
450
390
5800
Horizontal installation of single stage drive of parallel shaft reducer(Type:TH2SH)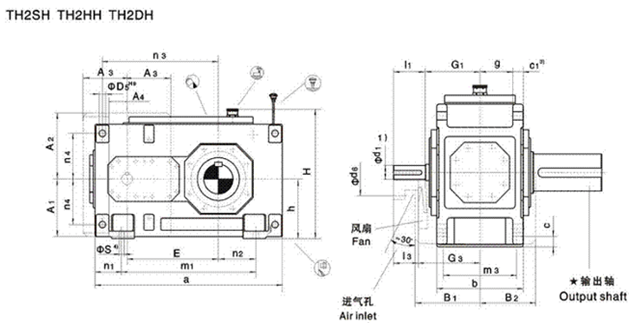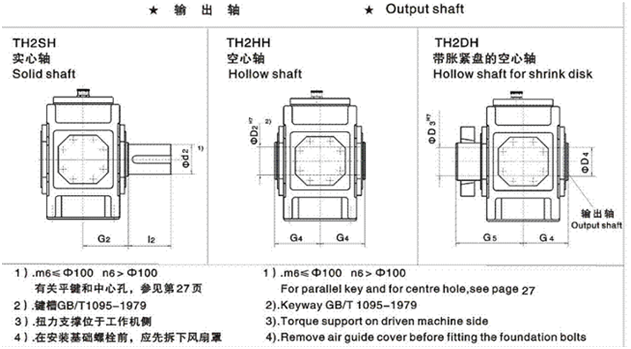 Model
Size mm
Input shaft
iN=6.3-11.2
iN=8-14
iN=12.5-22.4
iN=16-28
G1
G3
d11)
l1
l3
d11)
l1
l3
d11)
l1
l3
d11)
l1
l3
3
35
60
–
28
50
–
135
–
4
45
100
80
32
80
60
170
190
5
50
100
80
38
80
60
195
215
6
50
100
80
38
80
60
195
215
7
60
135
105
50
110
80
210
240
8
60
135
105
50
110
80
210
240
9
75
140
110
60
140
110
240
270
10
75
140
110
60
140
110
240
270
11
90
165
130
70
140
105
275
310
12
90
165
130
70
140
105
275
310
Model
Size mm
Gear reducer
a
A1
A2
A3
A4
b
B1
B2
c
c1
D5
d6
3
150
–
–
–
–
190
–
–
22
24
18
–
4
565
195
225
150
30
215
205
158
28
30
24
136
5
640
225
260
175
55
255
230
177.5
28
30
24
150
6
720
225
260
175
55
255
230
177.5
28
30
24
150
7
785
272
305
210
70
300
255
210
35
36
28
200
8
890
272
305
210
70
300
255
210
35
36
28
200
9
925
312
355
240
100
370
285
245
40
45
36
200
10
1025
312
355
240
100
380
285
245
40
45
36
200
11
1105
372
420
285
135
430
325
285
50
54
40
210
12
1260
372
420
285
135
430
325
285
50
54
40
210
Model
Size mm
Gear reducer
E
g
h
H
m1
m3
n1
n2
n3
n4
s
3
220
71
175
390
290
160
80
65
285
132.5
15
4
270
77.5
200
445
355
180
105
85
345
150
19
5
315
97.5
230
512
430
220
105
100
405
180
19
6
350
97.5
230
512
510
220
105
145
440
180
19
7
385
114
280
602
545
260
120
130
500
215
24
8
430
114
280
617
650
260
120
190
545
215
24
9
450
140
320
697
635
320
145
155
585
245
28
10
500
140
320
697
735
320
145
205
635
245
28
11
545
161
380
817
775
370
165
180
710
300
35
12
515
161
380
825
930
370
165
265
780
300
35
Model
Size mm
Lubricating oil(L)
Weight

(Kg)

Output shaft
TH2SH
TH2HH
TH2DH
d21)
G2
l2
D22)
G4
D3
D4
G4
G5
3
65
125
140
65
125
70
70
125
180
6
115
4
80
140
170
80
140
85
85
140
205
10
190
5
100
165
210
95
165
100
100
165
240
15
300
6
110
165
210
105
165
110
110
165
240
16
355
7
120
195
210
115
195
120
120
195
280
27
505
8
130
195
250
125
195
130
130
195
285
30
590
9
140
235
250
135
235
140
145
235
330
42
830
10
160
235
300
150
235
150
155
235
350
45
960
11
170
270
300
165
270
165
170
270
400
71
1335
12
180
270
300
180
270
180
185
270
405
76
1615
Horizontal installation of single stage drive of parallel shaft reducer(Type: TH2.H、TH2.M )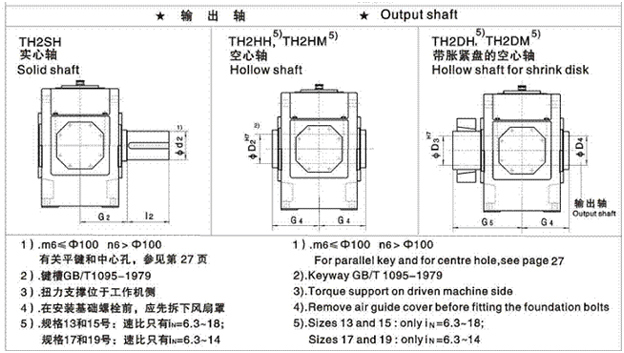 Model
Size mm
Input shaft
iN=6.3-11.2
iN=7.1-12.5
iN=8-14
iN=12.5-20
iN=14-22.4
iN=16-25
G1
G3
d11)
l1
l3
d11)
l1
l2
d11)
l1
l3
d11)
l1
l3
d11)
l1
l3
d11)
l1
l3
13
100
205
170
85
170
135
330
365
14
100
205
170
85
170
135
330
365
15
120
210
165
100
210
165
365
410
16
120
210
165
100
210
165
365
410
17
125
245
200
110
210
165
420
465
18
125
245
200
110
210
165
420
465
19
150
245
200
120
210
165
475
520
20
150
245
200
120
210
165
475
520
21
170
290
240
140
250
200
495
545
22
170
290
240
140
250
200
495
545
Model
Size mm
Gear reducer
a
A1
A2
A3
A4
b
B1
B2
c
c1
d8
D5
e2
E
13
1290
430
460
330
365
550
385
135
60
61
250
48
405
635
14
1430
430
460
330
365
550
385
135
60
61
250
48
475
705
15
1550
490
500
370
440
625
430
155
70
72
280
55
485
762
16
1640
490
500
370
440
625
430
155
70
72
280
55
530
808
17
1740
540
565
435
505
690
485
140
80
81
280
55
525
860
18
1860
540
565
435
505
690
485
140
80
81
280
55
585
920
19
2010
600
600
500
450
790
540
190
90
91
310
65
590
997
20
2130
600
600
500
450
790
540
190
90
91
310
65
650
1057
21
2140
680
680
500
610
830
565
200
100
100
450
75
655
1067
22
2250
680
680
500
610
830
565
200
100
100
450
75
710
1122
Model
Size mm
Gear reducer
a
A1
A2
A3
A4
b
B1
B2
c
c1
d8
D5
e2
E
13
1290
430
460
330
365
550
385
135
60
61
250
48
405
635
14
1430
430
460
330
365
550
385
135
60
61
250
48
475
705
15
1550
490
500
370
440
625
430
155
70
72
280
55
485
762
16
1640
490
500
370
440
625
430
155
70
72
280
55
530
808
17
1740
540
565
435
505
690
485
140
80
81
280
55
525
860
18
1860
540
565
435
505
690
485
140
80
81
280
55
585
920
19
2010
600
600
500
450
790
540
190
90
91
310
65
590
997
20
2130
600
600
500
450
790
540
190
90
91
310
65
650
1057
21
2140
680
680
500
610
830
565
200
100
100
450
75
655
1067
22
2250
680
680
500
610
830
565
200
100
100
450
75
710
1122
Model
Size mm
Lubricating oil
Weight
Output shaft
TH2.H

(l)

TH2.M

(l)

TH2SH
TH2HH5)TH2HM5)
TH2DH5)TH2DM5)
TH2.H
TH2.M
d21)
G2
l2
D22)
G4
D3
D4
G4
G5
(Kg)
(Kg)
13
200
335
350
190
335
190
195
335
480
135
110
2000
1800
14
210
335
350
210
335
210
215
335
480
140
115
2570
2430
15
230
380
410
230
380
230
235
380
550
210
160
3430
3240
16
240
380
410
240
380
240
245
380
550
215
165
3655
3465
17
250
415
410
250
415
250
260
415
600
290
230
4650
4420
18
270
415
470
275
415
280
285
415
600
300
240
5125
4870
19
290
465
470
–
–
285
295
465
670
320
300
5250
5000
20
300
465
500
–
–
310
315
465
670
340
320
6550
6150
21
320
490
500
–
–
330
335
490
715
320
350
7200
6950
22
340
490
550
–
–
340
345
490
725
340
370
7800
7550
Horizontal installation of single stage drive of parallel shaft reducer(Type:TH3.H)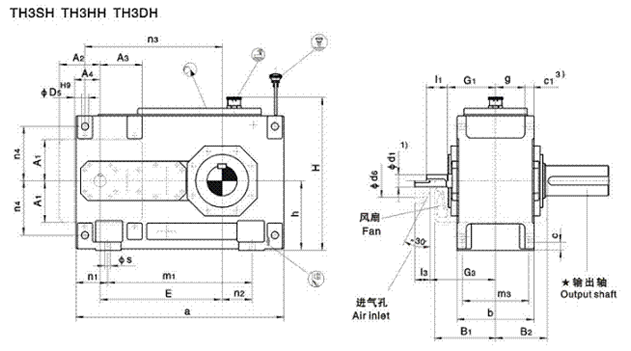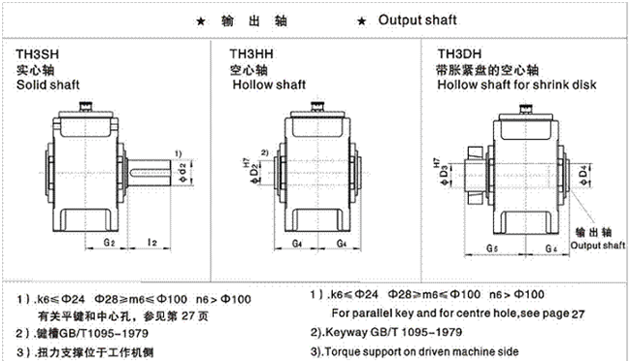 Model
Size mm
Input shaft
iN=22.4-45
iN=25-50

iN=28-56★)

iN=50-63
iN=56-71

iN=63-80★)

iN=71-90
iN=80-100

iN=90-112★)

G1
G3
d11)
l1
l3
d11)
l1
l3
d11)
l1
l3
d11)
l1
l3
d11)
l1
l3
d11)
l1
l3
13
85
160
130
60
135
105
50
110
80
310
385
14
85
160
130
60
135
105
50
110
80
310
385
15
100
200
165
75
140
105
60
140
105
350
420
16
100
200
165
75
140
105
60
140
105
350
420
17
100
200
165
75
140
105
60
140
105
380
450
18
100
200
165
75
140
105
60
140
105
380
450
19
110
200
4)
90
165
4)
75
140
4)
430
4)
20
110
200
4)
90
165
4)
75
140
4)
430
4)
21
130
240
4)
110
205
4)
90
170
4)
470
4)
22
130
240
4)
110
205
4)
90
170
4)
470
4)
Model
Size mm
Gear reducer
g
h
h1
h2
H
m1
m2
m3
n1
n2
n3
n4
s
13
211.5
440
450
495
935
597.5
597.5
475
100
305
940
340
35
14
211.5
440
450
495
935
597.5
737.5
475
100
375
1010
340
35
15
238
500
490
535
1035
720
720
535
120
365
1135
375
42
16
238
500
490
535
1035
720
810
535
120
410
1180
375
42
17
259
550
555
595
1145
750
750
600
135
390
1175
425
42
18
259
550
555
595
1145
750
870
600
135
450
1235
425
42
19
299
620
615
655
1275
860
860
690
155
435
1365
475
48
20
299
620
615
655
1275
860
980
690
155
495
1425
475
48
21
310
700
685
725
1425
1000
1000
720
170
485
1615
520
56
22
310
700
685
725
1425
1000
1110
720
170
540
1670
520
56
Model
Size mm
Lubricating oil
Weight
Output shaft
TH3SH
TH3HH TH3HM
TH3DH  TH3DM
TH3.H
TH3.M
TH3.H
TH3.M
d21)
G2
l2
D22)
G4
D3
D4
G4
G5
(l)
(l)
(Kgj)
(Kgj)
13
200
335
350
190
335
190
195
335
480
160
125
2295
2155
14
210
335
350
210
335
210
215
335
480
165
130
2625
2490
15
230
380
410
230
380
230
235
380
550
235
190
3475
3260
16
240
380
410
240
380
240
245
380
550
245
195
3875
3625
17
250
415
410
250
415
250
260
415
600
305
240
4560
4250
18
270
415
470
275
415
280
285
415
600
315
250
5030
4740
19
290
465
470
–
–
285
295
465
670
420
390
5050
4750
20
300
465
500
–
–
310
315
465
670
450
415
6650
6250
21
320
490
500
–
–
330
335
490
715
470
515
6950
6550
22
340
490
550
–
–
340
345
490
725
490
540
7550
7050
Horizontal installation of single stage drive of parallel shaft reducer(Type:TH4.H)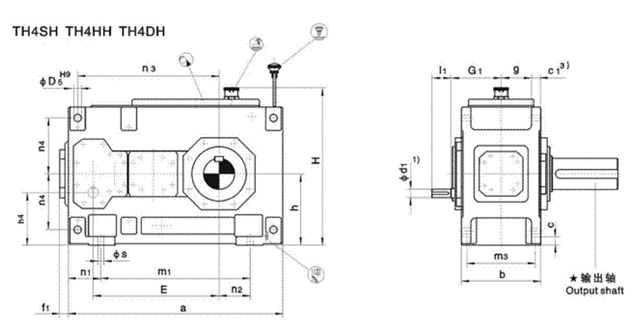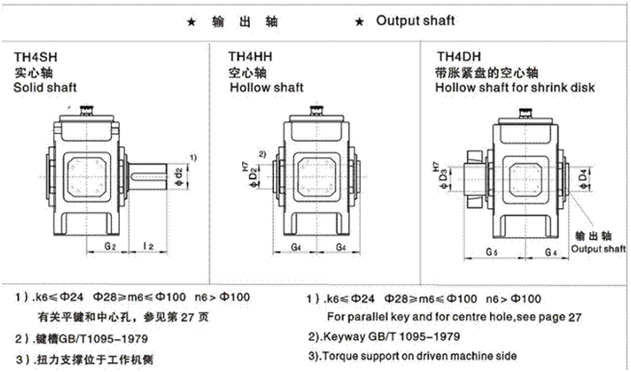 Model
Size mm
Input shaft
iN=100-180
iN=125-224
iN=200-355
iN=250-450
G1
d11)
l1
d11)
l1
d11)
l1
d11)
l1
7
30
50
24
40
180
8
30
50
24
40
180
9
35
60
28
50
215
10
35
60
28
50
215
11
45
100
32
80
250
12
45
100
32
80
250
Model
Size mm
Gear reducer
a
b
c
c1
D5
E
f1
g
h
h4
H
m1
m3
n1
n2
n3
n4
s
7
845
300
35
36
28
495
37
114
280
200
602
605
260
120
560
560
215
24
8
950
300
35
36
28
540
37
114
280
200
617
710
260
120
605
605
215
24
9
1000
370
40
45
36
580
43
140
320
230
697
710
320
145
660
660
245
28
10
1100
380
40
45
36
630
43
140
320
230
697
810
320
145
710
710
245
28
11
1200
430
50
54
40
705
47
161
380
270
817
870
370
165
805
805
300
35
12
1355
430
50
54
40
775
47
161
380
270
825
1025
370
165
875
875
300
35
Model
Size mm
Lubricating oil(l)
Weight

(Kg)

Output shaft
TH4SH
TH4HH
TH4DH
d21)
G2
l2
D22)
G4
D3
D4
G4
G5
7
120
195
210
115
195
120
120
195
280
25
550
8
130
195
250
125
195
130
130
195
285
27
645
9
140
235
250
135
235
140
145
235
330
48
875
10
160
235
300
150
235
150
155
235
350
50
1010
11
170
270
300
165
270
165
170
270
400
80
1480
12
180
270
300
180
270
180
185
270
405
87
1725
Horizontal installation of single stage drive of parallel shaft reducer(Type:TH4.H、TH4.M )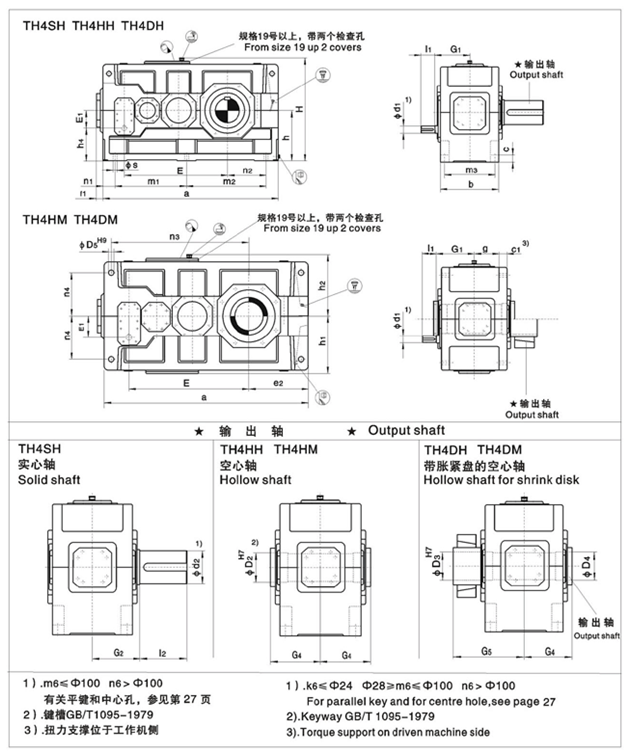 Model
Size mm
Input shaft
iN=100-180
iN=112-200
iN=125-224
iN=200-355
iN=224-400
iN=250-450
G1
d11)
l1
d11)
l1
d11)
l1
d11)
l1
d11)
l1
d11)
l1
13
50
100
38
80
305
14
50
100
38
80
305
15
60
135
50
110
345
16
60
135
50
110
345
17
60
105
50
80
380
18
60
105
50
80
380
19
75
105
60
105
440
20
75
105
60
105
440
21
90
165
70
140
460
22
90
165
70
140
460
Model
Size mm
Gear reducer
a
b
c
c1
D5
e2
E
E1
f1
g
h
13
1395
550
60
61
48
405
820
130
47
211.5
440
14
1535
550
60
61
48
475
890
130
47
211.5
440
15
1680
625
70
72
55
485
987
160
56
238
500
16
1770
625
70
72
55
530
1033
160
56
238
500
17
1770
690
80
81
55
525
1035
160
53
259
550
18
1890
690
80
81
55
585
1095
160
53
259
550
19
2030
790
90
91
65
590
1190
185
53
299
620
20
2150
790
90
91
65
650
1250
185
53
299
620
21
2340
830
100
100
75
655
1387
225
62
310
700
22
2450
830
100
100
75
710
1442
225
62
310
700
Model
Size mm
Gear reducer
h1
h2
h4
H
m1
m2
m3
n1
n2
n3
n4
S
13
450
495
310
935
597.5
597.5
475
100
305
940
340
35
14
450
495
310
935
597.5
737.5
475
100
375
1010
340
35
15
490
535
340
1035
720
720
535
120
365
1135
375
42
16
490
535
340
1035
720
810
535
120
410
1180
375
42
17
555
595
390
1145
750
750
600
135
390
1175
425
42
18
555
595
390
1145
750
870
600
135
450
1235
425
42
19
615
655
435
1275
860
860
690
155
435
1365
475
48
20
615
655
435
1275
860
980
690
155
495
1425
475
48
21
685
725
475
1425
1000
1000
720
170
485
1615
520
56
22
685
725
475
1425
1000
1110
720
170
540
1670
520
56
Model
Size mm
Lubricating oil
Weight
Output shaft
TH4SH
TH4HH TH4HM
TH4DH TH4DM
TH4.H
TH4.M
TH4.H
TH4.M
d21)
G2
l2
D22)
G4
D3
D4
G4
G5
(l)
(l)
(Kg)
(Kg)
13
200
335
350
190
335
190
195
335
480
130
120
2390
2270
14
210
335
350
210
335
210
215
335
480
140
125
2730
2600
15
230
380
410
230
380
230
235
380
550
230
170
3635
3440
16
240
380
410
240
380
240
245
380
550
235
175
3965
3740
17
250
415
410
250
415
250
260
415
600
290
225
4680
4445
18
270
415
470
275
415
280
285
415
600
305
230
5185
4915
19
290
465
470
–
–
285
295
465
670
360
310
5700
5300
20
300
465
500
–
–
310
315
465
670
380
330
6400
5950
21
320
490
500
–
–
330
335
490
715
395
430
7750
7250
22
340
490
550
–
–
340
345
490
725
420
450
8350
7750
https://www.prmdrive.com/wp-content/uploads/2019/08/TB-TH-high-power-speed-reducer1.jpg
240
320
admin
https://www.prmdrive.com/wp-content/uploads/2019/06/logo-1.png
admin
2019-08-17 16:46:40
2019-08-17 16:46:40
High power speed reducer