The girth gear is also called gear ring or gear wheel, the major component used in rotary kiln and ball grinding mill which is required to be operated in a long time. So, the quality requirements during the actual production for the big gear ring are very high.
We can custom and produce gear ring according to drawing and technical requirement。
Rotary kiln is a common equipment to calcine various materials, its gear ring is usually made of two or four halves because of its large diameter and weight.
Segmented large spur ring gear for rotary kiln

 Material

ZG45, ZG42CrMo4, ZG34CrMo4, ZG25CrMo4, GS34CrNiMo6,

Diameter

Up to 8000mm

Module

1-40mm

 Weight

max50000kgs

 Application

Ball Mill, Rotary Kiln,Rotary dryer

 Customizable

Yes, according to drawing

Gear wheel: spur gear, helical gear, internal gear,herringbone gear, bevel gear, worm and worm gear, pinion, gear rim;

Shaft: gearshaft, pinion shaft, spline shaft, flange shaft, step shaft, threaded shaft;

Industrial gearbox:gearbox design, manufacture,repair and maintain/upgrade/on-site inspect/mapping and spare parts service;

Casting, forging, welding, machining; 

Mining parts:steel ball, linear, end cover, hammer, rotary kiln tyre, support roller, hosing and etc

 Standard

as per drawing and techanical requirement, GB, EN, DIN, ASTM, GOST, JIS,BS, SS, CSN, ISO

 Inspection

Material chemical composition test,Dimension and visual inspect, hardness test,

Ultrasonic inspection,Surface roughness test,mechanical property test, three coordiates test, Magnetic particle test
Product advantage
The special heat treatment technology is adopted in the casting gear ring, so that the structure of gear rim is optimized, the hardness is improved, and the wear resistance and impact resistance of products are greatly enhanced.
The gear ring is produced with high-strength steel, and optimize the operation of rotary kiln, so as to ensure the stability of the gear ring under long-time operation to extend the work life of the gear ring.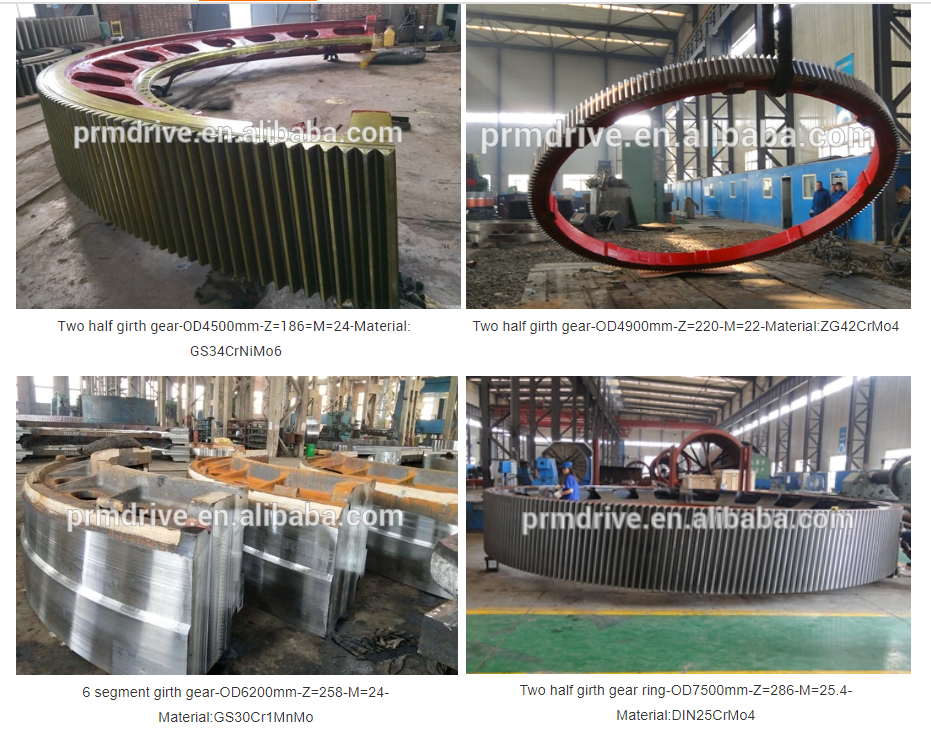 Gear ring process flow
No.
Casting procedures of the gear ring
1
Drawings for pattern
2
Pattern making
3
Sand molding
4
Cast and cool down
5
Cleaning
6
Cleaning of feeder head and check the size
7
Annealing
8
Ultrasonic Testing
9
chemical composition inspection
Machining procedures
1
Thick boring
2
Rough turning
3
Ultrasonic Testing
4
Hardening and tempering
4.1
Testing on mechanical properties
5
Mill the tie bar and Semi-fine boring
6
Semi-fine turning
7
Ultrasonic Testing
8
Rough gear milling
9
Open the gear ring and ageing treatment
10
Fine boring
11
Finish turning
12
Fine gear hobbing
13
Boring
14
Drilling
15
Benchwork
Packing and transportation
1
Clean
2
rust-proof and waterproof treatment
3
Plywood case packed
4
Shipped by Ocean or truck to customer
It is very strict with the produce processing and manufacturing of the gear ring, specially it requires with high machining technology for the tooth machining. PRM cast ring gears are strictly according to customers' requirement and produce process flow.