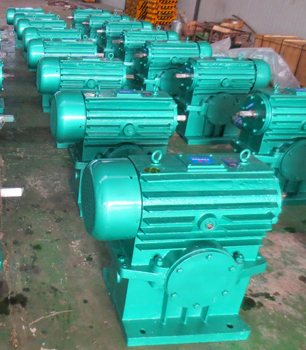 CW series worm reducer is produced in accordance with the national standard of the People's Republic of China (gb9147-88), mainly including CWU, CWS, CWO, which is suitable for mechanical transmission in metallurgy, mining, transportation, cement, construction, chemical industry, textile light industry, energy and other industries.
Technical data:
Model: CWU、CWS、CWO Three models, sixteen center distances, twelve speed ratios.
input power: 0.39-189kw,
output torque:107-43500n.m.
Center distance with 16 kinds:  a=63、80、100、125、140、160、180、200、225、250、280、315、355、400、450、500。
Transmission ratios12 kinds: i=5、6.3、8、10、12.5、16、20、25、31.5、40、50、63
Features:
large bearing capacity;
high transmission efficiency;
reliable use and long life.
Applicable condition:
Transmission speed of worm shaft is not more than 1500 r.p.m, and worm shaft can run forward and reverse.
working environment temperature is -40℃~+40℃. When the working environment temperature is lower than 0℃, the lubricating oil must be added above 0℃ before starting. When the working environment temperature is higher than 40℃, cooling measures must be taken.
https://www.prmdrive.com/wp-content/uploads/2019/08/CWO-worm-reducer.jpg
350
306
admin
https://www.prmdrive.com/wp-content/uploads/2019/06/logo-1.png
admin
2019-08-16 18:25:34
2019-08-17 15:32:04
CW series worm reducer